Single Shaft 775/800 Disperser
You may also want to see our 850 Basket Mill.
Hoist or tank mounted
Vacuum and non vacuum
Model 775 handles up to 15,000 cP
Model 800 handles up to 50,000 cP
The 775 and 800 series dispersers are compact and designed to reduce down time in demanding environments.  All lubrication points are externally accessible to simplify the maintenance process, encouraging on-time preventative schedules.  Maximum performance capacity with minimum height above the floor reduces the possibilities of shaft vibration.  More dispersion operation is achieved in less space, in less time, with more profit.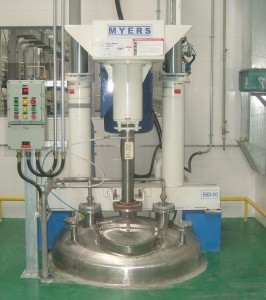 Tank Mounted Unit
Typical dispersing applications:

Optimum peripheral speed 5200 FPM
1 HP for every 10 gallons
Torque = (HP x 5252) RPM
Blade distance from bottom equals ½ blade diameter
Minimum blade depth equals 1 ½ blade diameter
Blade diameter equals 1/3 the diameter of the tank
Contact Myers for specific application details.