Myers is committed to providing machines that create a safe working environment. With a number of standard safety feature add-ons and the ability to provide custom-designed safety features, Myers is the first name in mixers, dispersers, and their associated safety equipment.
In addition to physical safety features, Myers has produced a full-color safety booklet with easy-to-follow safety instructions, which can be attached directly to your equipment to ensure all operators are aware of best practices. Download the Mixer Operational Safety PDF, or contact Myers for a free safety booklet of your own.
The Myers Drum Guard is for use with 55-gallon drums. The surrounding cage fully opens, and can be locked when machine is in operation. Hopper feeder chute at the top allows for easily and safely charging materials into the drum while running, with metal grate to prevent any unwanted material from being incorporated into the batch.
As disperser blades age, they become thinner and sharper, due to the intense shear forces they are exposed to in the mixing and dispersing process. Prevent damage to blades and improve your operations safety philosophy by investing in blade covers for all operational blades. Blade covers can be made of steel or plastic. Metal covers can be a basic slip-on cover, or metal handles can be welded on for easy covering and removal.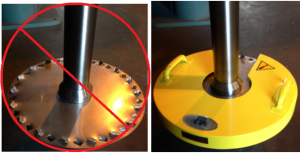 The Guide Bar Lockout is a safety lock for all lifted position machines. The third guide arm uses mechanical and electrical lockouts for the added assurance of safety when equipment is in the lifted position. A steel pin is inserted into the guide bar at desired lift height to mechanically lock the machine; machine controls are electrically locked out to prevent accidental moving. Guide bar can be made of stainless steel or carbon steel. This safety upgrade can be incorporated in a new machine or as a retrofit for existing equipment.
The Emergency Pull Cable allows operators to halt the machine from any location around the machine. When time is of the essence and the stop button cannot be reached, an emergency pull cable allows for automatic and remote stopping of equipment, protecting your product from damage and operators from injury.